WASHINGTON POST ARTS & STYLE COVER FEATURE 8.30.2020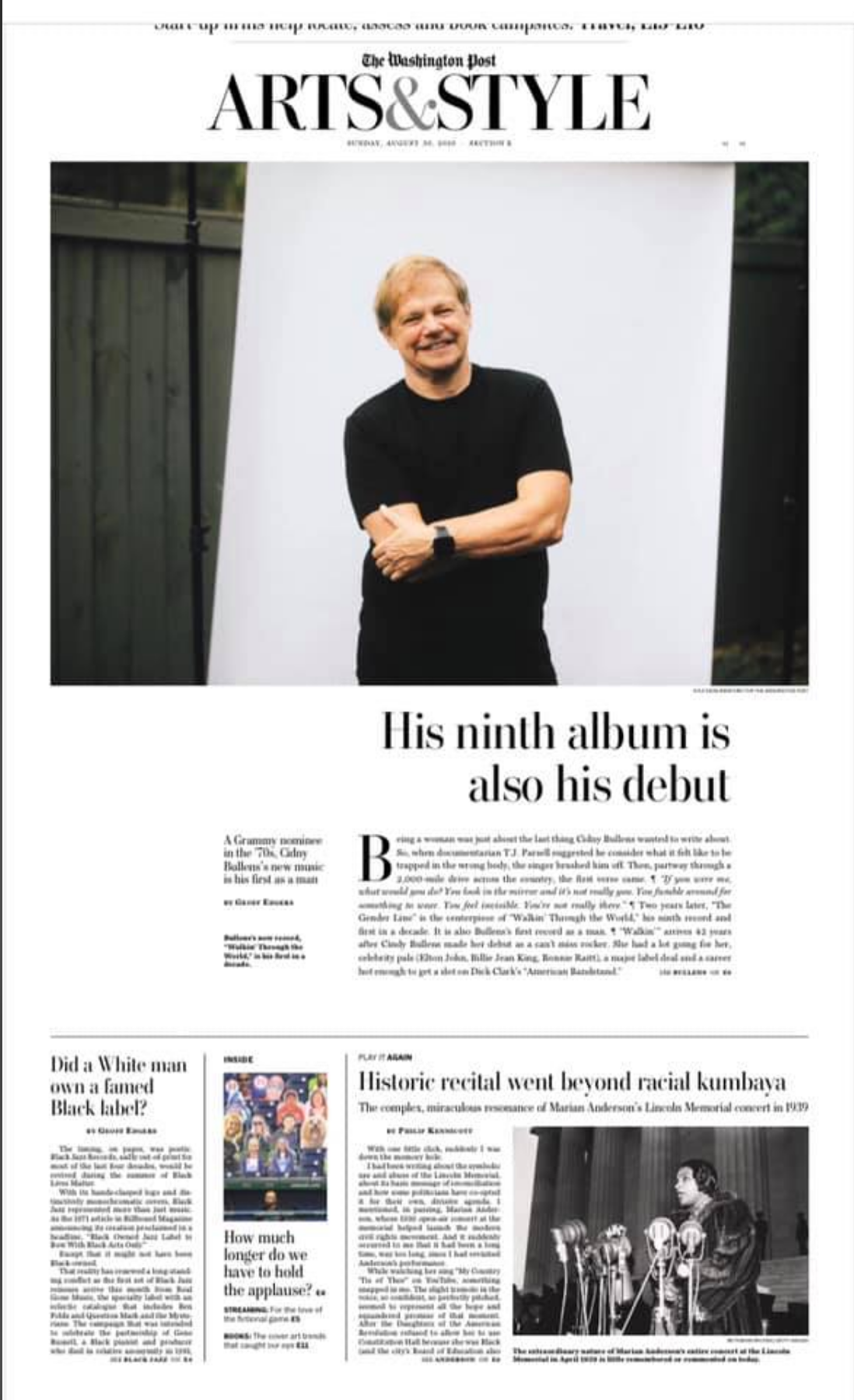 https://www.washingtonpost.com/entertainment/this-is-pioneering-rocker-cidny-bullenss-ninth-album-but-his-first-since-identifying-as-a-man/2020/08/27/d9653e30-e6f7-11ea-bc79-834454439a44_story.html
NPR ALL SONGS CONSIDERED SONGS OF THE WEEK 8.21.2020
https://www.npr.org/2020/08/20/904413668/new-music-friday-the-top-8-albums-out-on-august-21
What I love about (Walkin' Through This World) is the forthrightness, the humor, the expansiveness, the defiance, and the joy! It just has a great, great feeling of "this is who I am, take me or leave me, but you're gonna wanna take me 'cause I'm awesome!" To hear the voice of Cidny Bullens, I mean literally the voice of Cidny Bullens in this setting—classic, countryish, rootsy rock—THAT feels remarkably fresh.
Ann Powers on NPR's ALL SONGS CONSIDERED August 21, 2020
NPR's WORLD CAFE--ESSENTIAL AND EMERGING ARTISTS  8.26.2020
https://www.npr.org/sections/world-cafe/2020/08/26/906187995/amidst-the-pandemic-the-new-music-out-of-nashville-never-stops
Ann Powers "favorite August releases".
AMERICAN SONGWRITER FEATURE 8.17.2020
https://americansongwriter.com/walkin-through-this-world-cidny-bullens-song-interview/
COUNTRY QUEER  AUGUST 2020
https://countryqueer.com/interview/cidny-bullens-changes-the-game/
"It's a breathtaking and beautifully-crafted piece of Americana that is his first solo release as himself, and, as such, makes a powerful statement about living life on your own terms and the freedom that comes with it."
AMERICANA HIGHWAYS ALBUM REVIEW  SEPTEMBER 2020
https://americanahighways.org/2020/09/05/bentleys-bandstand-september-2020/
"Bullens has made one of the great rock records this year."
ALTERNATIVE ROOT ALBUM REVIEW  9.12.2020
http://www.thealternateroot.com/reviewarchives/cidny-bullens
" 'Walkin' Through This World' is Cidny Bullens giving a voice to many, a human and real narrative that's important to hear, wrapped in a Rock and Roll package."
PORTLAND MAGAZINE (Maine) ARTICLE  OCT 2020 Issue
http://www.portlandmonthly.com/portmag/2020/09/new-victory/
THE GOOD MEN PROJECT--ARTICLE 9.8.2020
https://goodmenproject.com/gender-sexuality/walking-through-the-world-as-a-man-who-had-walked-as-a-woman/
GOLDMINE INTERVIEW 9.28.2020
https://www.goldminemag.com/fabulous-flip-sides/fabulous-flip-sides-of-elton-john-with-cidny-bullens
"You are such a storyteller . There are lyrical lines that I love in your work and the chorus melody's high notes on this (album)."
ROCKWRITE.BLOGSPOT.COM  9.29.2020
http://rockwrite.blogspot.com/2020/09/recent-releases-roundup-ricky-byrd.html?utm_source=feedburner
"...the album (produced by the artist and Ray Kennedy) explores and documents the real-life story of the Nashville-based artist's nine-year gender transition. That story is bolstered by the bona fide artistic power and authority of the songs on the disc."  
LOOKING THROUGH THE LENS  10.1.2020
https://listeningthroughthelens.com/2020/10/01/best-albums-october-2020/
"("Walkin' Through This World") ...a spell-binding and moving album, beautifully put together, produced by Ray Kennedy and Bullens and recorded at Room & Board Studio in Nashville."
SAN FRANCISCO BAY AREA REPORTER  10.6.2020
https://www.ebar.com/arts_&_culture/music/297797
"Bullen's debut recording as Cidny, is another powerful personal statement. The title track, "Little Pieces," "The Gender Line," "Call Me By My Name" and "Healing the Break" are all meaningful, necessary and welcome additions to the growing playlist of songs about the trans experience."